News
Turkish Moroccon Mosaic Lamps
by Sezars Consulting on Jun 30, 2020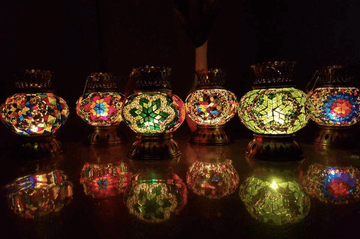 History of Turkish lamps
As of now we would like to present you unique collection of Turkish Moroccan Mosaic lamps. As widely known Turkish Moroccan Mosaic lamps and the other name Ottoman Mosaic lamps, Turkish Mosaic Lamps, Moroccan Mosaic Lamps have a long long story, the production method of that mosaic lamps commenced 4,500 years ago.
The people around the world are excited by the Turkish Moroccan Mosaic lamps and these home decorations of the great sultan's mansions. The mosaic lamps combine the shades of Middle East societies. Excellent lines of crystal, of different dimensions creating attractive designs and with rounded figures in the lampshades.
Turkish Moroccan Mosaic lamps are produced solely by hand in the mystical country, Turkey. The mosaic lamps are defined by the metalworks in a highly specific style and by the broad spectrum of shades and colors applied in tiny crystals creating mosaics, the afterlife show.

As of now, that method has developed to the present time. In its roots, it started with ceramics, metal, and following the installation of materials such as glass and plaster to meet them and end in lamps with mosaics, known as mosaic lamps.

The form of the lamp is designed by a metal part of brass and balloons formed of two layers. The first of them consists of a glass ball that is treated with a second ball that makes the ultimate mosaic. You cannot locate or find the two equal Turkish lamps, each one is a different and unrepeatable creation.

Each Turkish lamp is unique, they all have a distinctive mosaic pattern on the lampshade, colors, or even designs on the structure of the mosaic lamp itself. The pattern combinations of Turkish Moroccan mosaic lamps are so varied that they give thousands of chances for ambient home decoration.

Turkish Moroccan Mosaic lamps are an option for private style and expert spaces, to furnish and decorate your dream house and furnish a unique point to the usual. The producer has a comprehensive variety of mosaic lamps holding in its list ceiling chandelier, swanneck mosaic lamps, ewer mosaic lamps and candle holders mosaic. The most remarkable of all the features, when someone looks at the Turkish Moroccan Mosaic lamps for the first time, it is that the striking light effect they perform as they are on, it is marvelous!

Features of Turkish Moroccan Mosaic Lamps

Turkish Moroccan mosaic lamps are the commodities 100% handcrafted by the master and professional craftsmen from Istanbul (Turkey) and Morocco. They all are completely original with super high-quality Turkish and Moroccan mosaic crystals and coatings. The mosaic collections of the mosaic lamps are made with unique glass mosaic pearls that are accompanied by binding that shows a great robustness and depth to the glass ball.

World top class Turkish Moroccan mosaic lamp. The components practiced are ensuring the performance of the commodity and also the high resistant to the heat of up to 420 º F, being capable of installing without an issue 60W bulbs.

Turkish Moroccan Mosaic Lamps Shines

Both traditionally and globally enriched metals, minerals, and valuable gems and stones are used to make Turkish Moroccan mosaic lamps that are modified to include into our recent home design.

Right now we could tell that the type of mosaic lamps fit in various styles of conditions, which need to combine a touch of different colors in a beautiful way, as that type of mosaic lamps always draw attention. All are perfect for placing in foyers, lobbies, cellars, basements, honest places or to show an oriental feeling in living spaces and dining/living rooms.

It is that the ambient glow all the mosaic lamps create calls loosen and rest. The purpose of the colored mosaics produces a mixture of glows when the mosaic lamp is switched on, that is unbelievable. The colors are motivated by Middle East and Mediterranean tastes, colors of valuable gems that spread life and spark to any spaces such as living rooms and dining rooms.

Right now the gemstones that are being used are not jewels, but mosaics and glass, pearls, beads etc. are used. This is in the character of those gemstones that the differentiation of the Moroccan and Turkish glows live. What separates them from a little gadget that's why the illumination and shadows of a classy Turkish and Moroccan lamps are distinctly audible.

Because of they are of time and space perceptions, Turkish Moroccan Mosaic lamps also fit excellently in vintage conditions, supremely efficient for this blend of forms that is personalized with per part which is incorporated into the home decor.

Though a Turkish Moroccan mosaic lamp could fit utterly in a classic atmosphere, a part that might give an authentic and above whole individual air to the place. You could utterly modify the Mosaic lamps in numerous surroundings and practice one or more lamps to light up while furnishing with a scent of taste.

The mosaic lamps are likewise very valued for the illumination of bars and restaurants that gives them a unique and welcoming glance. Sharp for thematic global cuisines, hotel, cafes and model that has contemporary wineries, once they adjust in an unexpected method and produce a contrast with other related assumptions.

In that form of Turkish Moroccan Mosaic lamps you couldn't ignore the lanterns from Turkish and Moroccan or the lamps of Turkish and Moroccan influence. The mosaic lamsp are also handcrafted lamps by artists with master skills and interest in the craft that are included in each item to present it different and with a unique feature.
It is that type of lights the mineral parts are as essential as the glasses that eliminate them. Anything is needed care of to the force because they compete both with the decoration and with the tones and colors that could present when lighted.

Should you wanted them, you could see our catalogue of Turkish lamps. Furthermore, if you choose to purchase one be sure that you don't regret it. Turkish Moroccan lamps have something special in common with you.